The investor friendliness of the state expresses not only in low taxes rate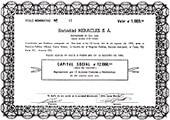 Many economic sectors are still supported additionally with fiscal reliefs, earnings from the foreign countries as well as foreign profits are tax-free.
Here, a formation area presents itself for everyone, who simply doesn't want to expose money to the exaggerated tax burdens of European states. It reveals diverse possibilities for licenses, honoraria, international deliveries, etc. Of course always between companies, that belongs to you. Pre-requisite for it is the foundation of a company in Costa Rica, in the rule of a "Sociedad Anonima", or S.A. abbreviated, that must be registered into the Central Register of Companies (Registro Nacional).
The costs of the society enrollment remain under US$ 1 000. A local representing and the company place, the most important: where the office is must be stipulated.
Costa Rica guarantees foreigners an extensive capital protection like to its own citizens. The Costa Rican constitution protects the invested capital from an expropriation.
For the transfer of profits, dividends and the invested capital abroad, practically there are not restrictions. The return of invested capital for businesses is the state's investment support: The exemption from taxes.
Detailed information can be ordered for € 50