Lake Arenal
Lake Arenal Is located in the north of the country, at the foot of the Arenal Volcano, about three hours drive from the capital San José.
The reservoir is 85 square kilometers and has a length of about 30 km. The depth varies between 30 and 60 meters. It is the largest lake in the country and an important source of energy.
The region has been attracting eco-conscious travelers and more and more emigrants from many countries for decades.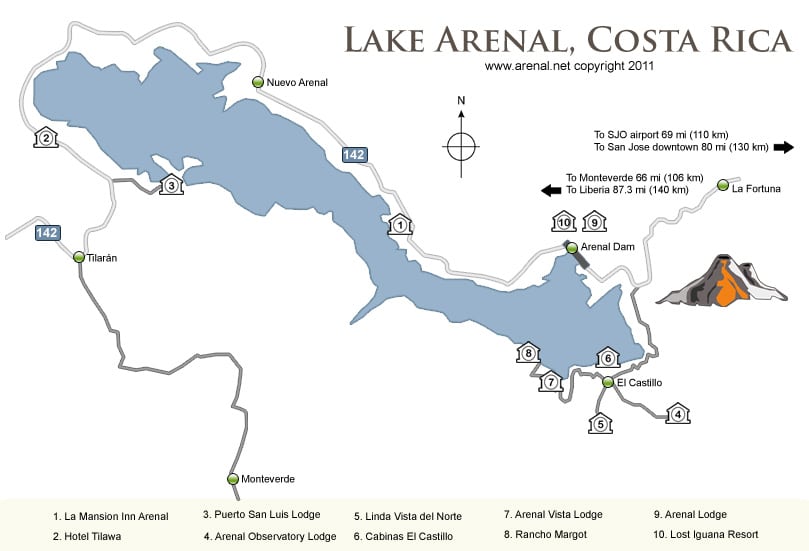 Arenal National Park covers almost 30,000 hectares and has an incredible geological and biological wealth.
In addition to hiking through the national park, you can also take an adventure tour! Horseback riding, rafting on the nearby rivers, mountain biking, bird watching, a quad tour.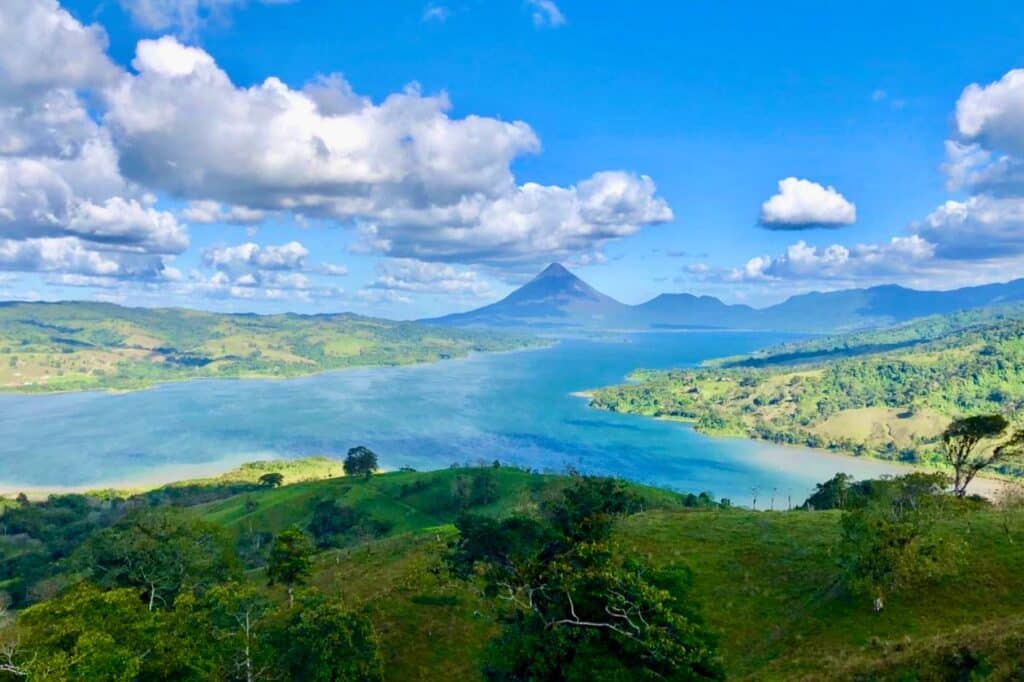 The Arenal Volcano with the lush green hills in the background, together with the bright blue waters of the lake make this region a unique area for water and adventure activities.
Thanks to the strong, constant winds that blow at Tilaran between November and April, you will find a larger number of windsurfers and kitesurfers here.
The surrounding small towns, hotels, spas surrounded by lush nature make the region interesting for both tourists and expatriates.
Nature: Flora and fauna are abundant here. There are a variety of animals, such as monkeys, coatis, butterflies, amphibians, tucana, water birds and 21 different species of hummingbirds are native here.
Climate: In the Arenal area there are hot days, but on the whole the weather in the region can be described as " spring-like" throughout the year. Warm daytime temperatures, cooling at night. Neither heating nor air conditioning is needed. The good weather results in a lot of outdoor living, in tropically landscaped gardens, on terraces and balconies.
While in the northern regions of the Pacific coast everything is brown in the dry season, the area around Lake Arenal is bright green all year round.
La Fortuna on the east side, is the tourist center and is located 10 km from the base of the volcano. The volcano is a spectacular sight, a cone rising 1670 m from forest and meadows. A side effect of the volcanic activity is that there are numerous thermal springs in the area that are naturally heated by the volcanic activity.
The village of "Nuevo Arenal", located 620 meters above sea level, is popular with tourists and especially with emigrants. It was built in 1973, when the "old" Arenal, was flooded at the same time as the dam. The village is located on the north shore, approximately in the middle of the lake. There are cafes, restaurants, banks, stores, a German bakery and an active nightlife. Nearby is a botanical garden with over 1200 tropical plants from Costa Rica.
The town of "Tronadora" is located on the opposite side of the lake. Here, too, numerous emigrants have settled in the surrounding hills, in wind-protected locations with magnificent views, as well as directly on the lakeshore.
You too could find your new home here.