May 24. 2019
– Expats in Costa Rica –
In 2014, Hansruedi, 74, and his partner Nelly, 63, from the canton of Solothurn (Switzerland), are traveling three weeks in Costa Rica. Two years later, in August 2016, they leave Switzerland, fly to Costa Rica and rent a house in Turrúcares for three months. They visit 15 properties and finally buy a house with pool and garden in Escazú (San José). On 15 November 2016, they fly back to Switzerland for the last time. Six weeks later, on December 29, 2016, they move to Costa Rica for good. Here's the first part of their story.
"The people here are just great"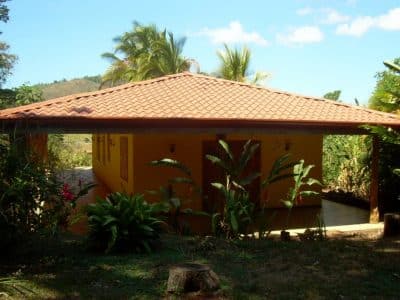 Hansruedi was Technical Director of a Pig Crossing Program, Nelly worked as a clerk with a power company.
Both were dissatisfied with life in Switzerland: "We no longer liked the political situation, what was going on with foreigners, taxes and expenses, population increase and traffic problems. We wanted to leave Switzerland".
It all starts in 2014. With a friend who had visited Costa Rica before, the two go on a three-week trip through the "Switzerland of Central America". They like the country, the graciousness of the Ticos, nature, the climate. On the return flight they decide: "We are moving to Costa Rica".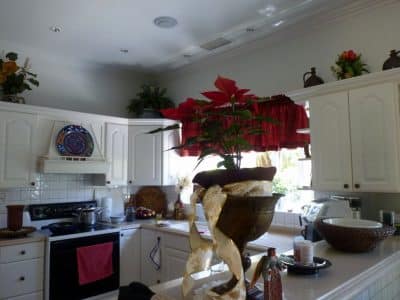 Why Costa Rica? "We have seen the security of the country, no military, nature, and an extremely beautiful wildlife", recalls Hansruedi. He is particularly fond of animal diversity. No wonder, in Switzerland he had a zoo in his house, 60 aquariums with over 14,000 liters, and even reptiles. Two years later, they would travel with their two Munsterlander dogs and Maine Coone cats on a Condor plane.
The planning phase. Back in Switzerland they already know only the Central Valley would be an option. "We wanted a climate that is similar to Switzerland, more or less at an altitude of 3,281 ft", says Nelly, "and since we are not young anymore, shopping centers and a hospital must be nearby".
Next comes the detailed planning. Nelly and Hansruedi draw up a checklist: Land register excerpt, plot size, house floor plan, year of construction, internet, water heating (electric or gas), well, solar panels, altitude, area (dry, humid, average), rights and obligations, sewer / septic tank, distance to go shopping / gas station, kitchen, washing machine, enclosure, employees, miscellanous.
"Then we surfed the internet. What do we need as for papers, translations, apostille, bank account, setting up a company, and so on", Hansruedi looks back. The vacation friend helps and gives them the e-mail address of a German-speaking lawyer* in San José.
"We e-mailed the lawyer and little by little sent him the necessary documents", recalls Hansruedi.
The lawyer charges 3,850 dollars** per person to apply for residence cards (cédula de residencia). Hansruedi and Nelly each transfer half to Costa Rica.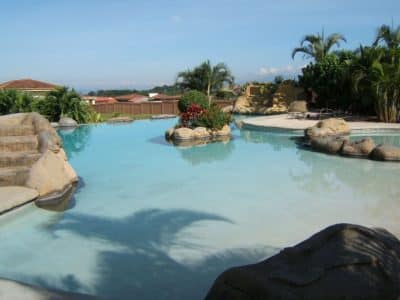 Spanish lessons. At home in Switzerland, starting in 2015, they have Spanish class once a week, Latino-Spanish with a teacher from Colombia. "We want to fit in, we are not looking for Swiss friends, we want to get to know a new culture", says Hansruedi.
Buying a car. Next on the list is buying a car. Hansruedi wants a Toyota RAV4 in Costa Rica. In Switzerland he makes a test drive. Then – with the help of his Spanish teacher – he buys one by e-mail at the Toyoto dealer in La Urruca.
Three months Costa Rica. On August 16, 2016, Nelly and Hansruedi fly to Costa Rica. At Juan Santamaría airport they take a cab to Toyota in La Urruca. And there it is, a black Toyota RAV. "I signed the insurance papers in the Toyota parking lot", he says. They give him three wishes for the license plate. He chooses HRS (Hans Rudolf Schneider). Six weeks later, the plates are on the car.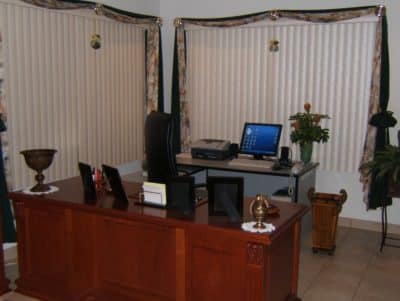 Property search. In Turrúcares they rent a small house for 400 dollars a month. From here they start their search for a new home. "You can try out all the brokers", advises their Swiss friend, "just not Lothar Kahl Immobilien, he is too expensive". Hansruedi and Nelly are looking at 15 properties, in Grecia, Atenas, Arenal, and San José. Then it makes click in Escazú: They like a 4,844 ft² house with pool and garden at first sight and buy the 17,804 ft² plot. The realtor is called Lothar Kahl.
Now the work begins. Nelly and Hansruedi travel every day from Turrúcares to Escazú to remodel their new home. "We made the kitchen, bathrooms and floors new", recalls Hansruedi.
*Attention when selecting a lawyer. This also applies to lawyers and notaries that speak your native language.
**The cost of obtaining a residence card through a lawyer can range from $1,500 to $2,500.